Safety is of the utmost importance in any facility. Having proper lines and symbols painted can reduce workplace accidents as well as improve the look of your facility.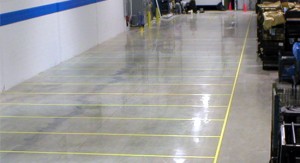 Stateline Surface Solutions offers safety line striping for your facility needs. We can install to specification any size safety line in the color of your choice with crisp, clean precision.
Use brightly painted transportation lanes and markings to safely and effectively direct forklifts and people around your facility.
Identify dangerous and safe sections of your facility with safety line striping. Help visitors know where safe zones are to reduce accidents throughout your plant.
Use markings and lines to keep loading areas clear and safe. Reduce shipping and receiving accidents while improving the look of these areas.
Utilize our safety striping to upgrade your organization in your warehouse by identifying pallet sections and rows.
Contact Stateline Surface Solutions to learn more about what our safety line striping team can do for you. Our experts are here to help you find the best solution for your flooring needs.